Not much to say about this game.

It was decided by two blunders by Black, and by move 15 was over, Black being a Rook and knight down, but he played on.

It was a simple threat of mate that lost him his Queen two moves later, and he then spent 40 minutes thinking of the remaining moves (20 on the last two ).

Ah, well.....

Not a lot to say about it, but it hardly challenged me, and I guess he must have had a very off day !

Interesting points around moves 7 - 10.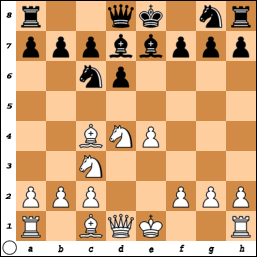 [Black has played 6..Be7]

At what point do you exchange the c6 knight ? I think I was almost too late on move 9, but not sure what sort of guidelines there are for it. ( See Anonymous comment).

Still 1,5 points so far in the tournament so it can't be bad !